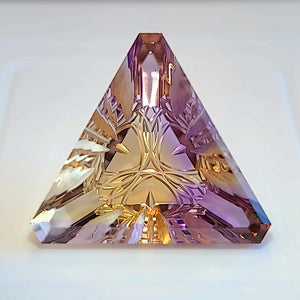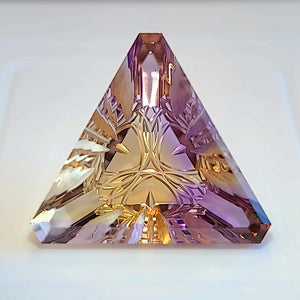 What do you do with old or damaged gemstones?
There are many times were gemstones can sit on a shelf for years. It could be for many reasons: poorly cut, see through (windowed), damaged, etc.
We can help turn those gemstones into new works of arts, that will sell! With our specialized fantasy cutting techniques, we can cut out the mess, and make something you and your client will love.
Changing the Gem
Amethyst, Full Fantasy Recut
The original gem was a simple oval cut for weight.
With a few modifications, recutting the girdle, pavillion, and crown, as well as fantasy cutting the gem, a new piece of art emerged from the previous cut.
Adjusting the Angle
Tourmaline, Concave Fantasy Recut.
On the left, we have an oval shape with a windowed pavillion.
On the right, we concave cut the pavillion at a better angle to add brightness to the gem, and concave cut the girdle to give the oval a new shape.
Fantasy Recutting
Aquamarine, V-Cut Fantasy Recut
All gems are unique, and we believe that a new recut should be equally special.
After cutting the above Aquamarine with several tools and techniques, we were able to turn this standard, windowed pear cut into a sold piece of art.


Shapes & Cuts
There are hundreds of different styles we can provide for recutting. Each design will be unique to the gemstone provided.
-Concave Cutting, Geometry Design, Precision Recuts, Grooves, Bubbles, and more
How To Start?
Simple! Send me a message using the contact form below.
Let's start by discussing your ideas and needs for the gemstones you are recutting. Not all stones are cuttable.
From there, send us your gemstones to get the cutting started!
We look forward to working with you!
Contact For Recutting Rates!
We're happy to help with any questions.